In a little more than a year, Swedish student Greta Thunberg has inspired a worldwide youth climate change movement. Their numbers continue to grow via a global network of young social media equipped activists armed with scientific facts and the legacy of previous generations' failures. Greta has been deeply concerned about the effects of climate change since she was nine. However, in March 2018, she was moved to action by the March for Our Lives gun control movement which was organized quickly and effectively by students who survived the high school shooting in Parkland, Florida. Initially, Greta was unable to gather supporters to fight climate change. Undaunted, she sat alone in front of the Swedish parliament every day for three weeks during school hours with a sign which read "School Strike for Climate" in Swedish. After earning the respect of her own government Greta scaled back the strikes to Friday afternoons. She then urged her new followers to compel their own governments to immediately reduce greenhouse gas (GHG) emissions before it is too late.
Brandishing the Paris Agreement, Greta traveled extensively across Europe via electric cars, buses, and trains, on journeys which lasted up to 32 hours. In December 2018, she confronted the United Nations' COP24 summit on climate, where she told those assembled they were "not mature enough to tell it like it is." In Jan 23, 2019 she admonished European business leaders gathered in the elite enclave of Davos, Switzerland for their role in climate change. On April 23, during the sixth month of her campaign, she arrived in London where she lambasted British MPs at the Houses of Parliament for their country's egregious historical legacy of profit-driven environmental abuse and their failure to stop GHG emissions. By May 2019 Greta was on the cover of Time magazine as one the 2019 Next Generation Leaders.
Greta inspired the female-led Fridays for Future student climate change movement. In August 2019 members of this group convened in Lausanne, Switzerland from 38 countries to solidify their strategy. By then, tens of thousands of students had already participated in a growing series of climate protests all over the world. Many of these actions were organized by other young females, but regardless of sex, age, or national origin most cited Greta as their role model. The passionate Fridays for Future committee struggled with disparate priorities and opinions. Nevertheless, they agreed to compel governments to accept climate change science and protect all peoples during the push to abandon fossil fuels in order to prevent average global temperatures from increasing more than 1.5° Celsius.
On August 28, Greta sailed passed the Statue of Liberty into New York Harbor aboard the 18 meter-long Malizia II, a solar panel and water turbine generator equipped racing sailboat. Accompanied by her father, a cameraman, and two skippers, Greta made the demanding 14-day transatlantic voyage to protest GHG emissions from jet travel on her way to lead the Global Climate Strike. She addressed the United States House of Representatives Select Committee on the Climate Crisis on September 18 urging them to "wake up... [and] listen to scientists... ." Two days later she marched in the Climate Strike in New York and on September 23 Greta addressed the United Nations Climate Action Summit. During an emotional appeal to end "business as usual," the Right Livelihood Award recipient and Nobel Peace Prize nominated speaker sent shockwaves through the audience with her unvarnished assessment of their avarice, charging them with the theft of her dreams and childhood, and warning them that "change is coming, whether you like it or not."
Greta's global following and intensive press coverage has also made her the subject of ridicule by desperate climate change deniers. For about ten minutes, the President of the United States pried himself away from his busy schedule to attend the UN Climate Action Summit. Afterwards, he tweeted a condescending description of Greta as a "very happy young girl looking forward to a bright and wonderful future." It is no wonder Greta has characterized any potential meeting with the President as a "waste of time." During a September 24 Fox News appearance, Greta, who has been diagnosed with Asperger's Syndrome, proved too much for conservative pundit Michael Knowles who insisted she was merely an "exploited...mentally ill Swedish child... ." Fox News host Laura Ingraham later continued the assault in a segment entitled The Climatology Cult. Ingraham claimed America's children were being brainwashed about climate change and suggested Greta resembled the homicidal children in the film adaptation of Stephen King's short story Children of the Corn. These appalling attacks failed to discourage or silence Greta. In fact, she has already taken control of the President's tweet by incorporating it into her Twitter bio, allowing her 2.2 million followers to troll him at will.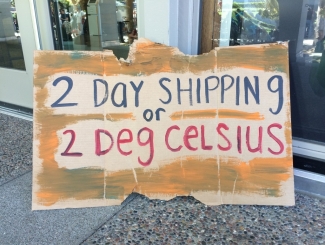 On the opening day of the Global Climate Strike, Greta once again called upon students around the world to leave their classrooms and make their voices heard. They were quickly joined by people of all ages, including many Google, Amazon, and Microsoft employees who left their jobs to protest corporate complicity in the climate crisis. It is estimated that more than 4 million people participated on Friday Sept 20, making it the largest single day climate protest in history.
U.C. Berkeley students opened their climate strike with a teach-in. They underscored that climate change is disproportionately affecting women, children, people of color, the poor, and indigenous populations. They also explained that many of the proposed solutions could have devastating effects on those who are already the most vulnerable. At 11:00am, Sproul Plaza quickly filled as a wave of college students were joined by about 400 Berkeley High School students for the scheduled rally. Many were holding signs bearing ominous warnings such as "2 Day Shipping or 2 Deg Celsius" and "You might die of old age, we will die of climate change." U.C. Berkeley organizers led the enthusiastic crowd in a series of chants including "Hey hey - ho ho - fossil fuels have got to go!" and "Climate change is not a lie – do not let our planet die!"
In spite of her absence, Greta's leadership was never challenged. The acknowledgement of her remarkable contribution drew a massive roar of support from the crowd. The spotlight also fell on a group of local middle-school students who came with their banner and pithy signs. Brought to center stage, each of the students took a short turn on the mic. One of the many girls exclaimed, "For all the adults out there who really don't care about this - grow up!" The crowd, which had been hanging on every quiet word, exploded with support. The rally ended with a poem which reflected upon the past, present, and future. In her apocalyptic vision the young poet concluded on a hopeful note, "I see the youth, pushing past the smog, pulling adults by the hand, and holding their eyes open until they can truly see."
Just past Noon, a large number of the students made their way respectfully to BART where they travelled to San Francisco to join thousands of other activists. There, the Climate Strikers marched down Market Street and demanded that Democratic Senator Dianne Feinstein and Speaker of the House Nancy Pelosi, support U.S. Representative Alexandria Ocasio Cortez's Green New Deal, and, declare climate change a national emergency.
Greta and the climate activists she has inspired plan to keep up the pressure. As for Greta's autism, she calls it her "superpower." Unlike the climate change liars and deniers, Greta is a beacon of hope for all of us; super and powerful indeed. The employee-owners of Sun Light & Power fully support Greta and her movement. We implore you to reduce your carbon footprint and join in the fight to save the planet now.
Seamas Brennan is a Blog Contributor, Researcher, and Engineering Admin. Assistant at Sun Light & Power