Sun Light & Power is pleased to announce a dual solar project for Arden Town Apartments, located at 2400 Arden Way in Sacramento, California. The improvements were the idea of environmentally conscientious property developer and owner, Patrick Tully, President of Bitwise Properties, Inc. He is adding an impressive solar thermal and PV system to the 81-unit apartment complex. A parent, computer programmer and long-time advocate of affordable housing and clean energy, Tully purchased the 60-year old complex in 2014 with the intention of breathing new life into the community.
At first glance, Tully knew that highly efficient solar thermal panels would be an ideal upgrade for the existing centralized gas boiler system. The old system was inefficient, leaked profusely and had a high carbon footprint. It wasted water, energy, time, and money. Hot water for the buildings will now be generated from 24 industry leading Heliodyne GOBI 4x10 solar thermal panels. This system will connect to new plumbing and multiple temperature sensing pumps. The system will also feature computer monitoring, and each building will be allocated to its own zone to further increase efficiency. Small back-up water heaters in each unit ensure that the residents will have hot water at times when the sun is not providing free energy.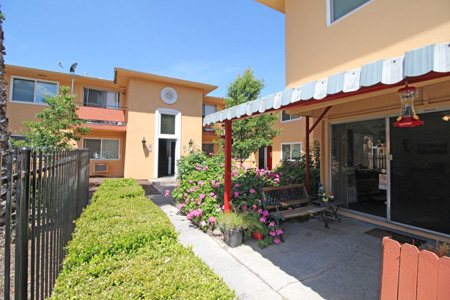 Arden Town Apartments will also feature a 28 kW PV system comprised of 71 premium SunPower solar panel modules. The PV system will serve the common meter for the complex office, two apartments, and the laundry room. Tully is preparing to decommission the gas burning dryers used daily by his 160 tenants and replace them with ultra-efficient electric models. The combination of these dryers, powered primarily by the solar array, will drastically lower the carbon footprint of the residences. Contrary to some claims, burning natural gas rather than coal in power plants is not better for the environment. It is mostly methane and without even considering leakage, it produces more than 80 times the global warming potential compared to CO2 during its first 20 years in the atmosphere alone.
The combined greenhouse gas emissions offset by this project are considerable. The PV system will generate about 41,500 kWh of carbon-free renewable electricity annually which is enough to supply five average homes for a year. The solar thermal system will produce the equivalent of 70,320 kWh each year. Together, both types of solar panels will prevent the equivalent of 87.2 short tons of CO2 from reaching the atmosphere annually according to the EPA's calculator. This is the equivalent of burning 87,115 pounds of coal, 8,896 gallons of gasoline or 3,232 barbeque-sized propane cylinders. Remarkably, these equivalents could be matched in greenhouse gas reductions if one were to recycle 53,800 pounds of waste each year instead of sending it to the landfill. It takes 103 acres of mature forest to sequester this much carbon. Recycling is available to residents at Arden Town Apartments.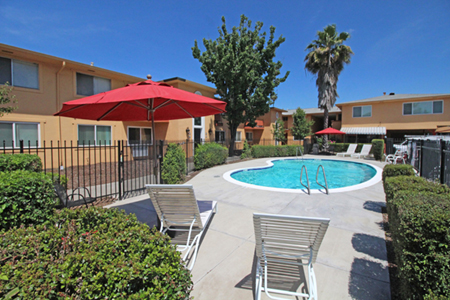 When Tully purchased the property, it contained two derelict swimming pools. These pools inspired him to redesign the grounds. The first was totally removed, recycled, and replaced with grass and a community garden. The second was remodeled from scratch and upgraded with a modern PG&E subsidized solar panel heating system. He removed all remaining lawn at the complex, and replaced all toilets and faucets with low flow fixtures. These improvements have saved thousands of gallons of water, lowered overhead and helped keep rents affordable. Current residents now grow fresh vegetables, and thanks to the solar heating, they enjoy the pool for a month longer than the regular swimming season.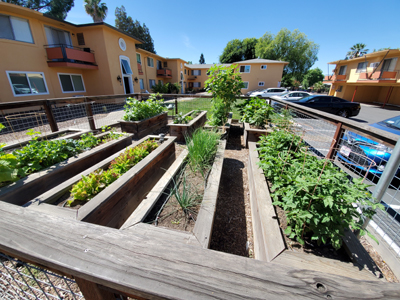 Apartments and real estate development run in the Tully family. Patrick helped his mother manage apartments while he was in high school. Patrick said that his development philosophy is to "leave it better than you found it and use technology." For years he heard naysayers complain that upgrading housing with renewable technology didn't pencil out. However, after reviewing the technological advancements, rebates, and tax incentives he arrived at a different conclusion. A visit to the Mandalay Bay Resort and Casino in Las Vegas, which sports a massive 5 MW rooftop solar array also helped convince him to take environmental responsibility for his own properties.
Patrick Tully has demonstrated that it is possible to give an old complex new life while lowering its carbon footprint and maintaining affordable pricing, all of which makes him feel good. He is excited to be among entrepreneurs investing in the future. Patrick is increasing energy efficiency in his community where it is drastically needed – at home. Many property owners and developers have focused too narrowly on the bottom line over the past several decades, ignoring the cumulative consequences of passing the cost of aging and inefficient energy systems on to increasingly pressured tenants. Tully sees investments like Arden Town Apartments as great opportunities to serve our community and protect our future. Sun Light & Power could not agree more. We are delighted to help Patrick achieve his goals.
About Sun Light & Power
Sun Light & Power drives the total adoption of clean energy by designing, building, maintaining, and advocating for clean energy solutions so future generations inherit a healthy planet. We are committed to delivering an exceptional customer experience by always innovating and acting with dedication and passion. We are a certified B Corp, California Benefit Corporation and an Alameda County Green Business. Sun Light & Power was founded by Gary Gerber in 1976 and has been 100% employee-owned since 2019. For more information visit sunlightandpower.com or email Nancy Summers at nsummers@sunlightandpower.com.
About Arden Town Apartments
Arden Town Apartments, a Bitwise Properties, Inc. property, is a community of one- and two-bedroom apartment residences located near Bell Executive Plaza in Sacramento, a few miles from the mall. The community features free wi-fi and safety features including high-tech gates with controlled access and security cameras. Additional features include barbecue pits, a courtyard, a picnic area, pet play area and a community vegetable and herb garden. 12 – 24-month leases are available. For more information visit ardentownapts.com or email Patrick Tully at manager@ardentownapts.com.